Projects and initiatives create a large amount of  supplemental work that your team doesn't always have the bandwidth or skillset to manage.  We can augment your resources and shorten your learning curve in the process.
Your engineers's time is best spent on technology
Want to alienate a talented network engineer? Have them sift through thousands of pages of communications bills and contracts. These tedious tasks leave network engineers stuck auditing invoices, reviewing contacts and driving projects with telcos as a 'third job'. Alternatively, these administrative workloads are often distributed to financial analysts, accounts payable and other internal resources who may or may not have a background in managing telecom. Despite it being a large Operating Expense category, a dedicated communications analyst is rarely hired until a company grows beyond 5,000 employees.
On average, non-engineering communications administration tasks consume about 30 minutes per employee per year. The time and budget required means that an organization with 3,000 employees will generate nearly 187 days of annual work (about 28 hours per week) in communications admin without a dedicated resource to take that on.
Let engineers focus on 'engineery' things instead of administrative minutia
For example, if you are converting from MPLS to SDWAN, we augment your team at each step to:
Mitigate contract penalties on old services

Place orders for new services

Coordinate vendors and internal resources to complete install of new services

Request RMA (equipment pickup) of old services

Place disconnect order of old services

Verify invoice for old and new services

Update inventory & Visio
We have built similar templates and tools to aid in migrations, deployments, merger and acquisition integrations and other business changes.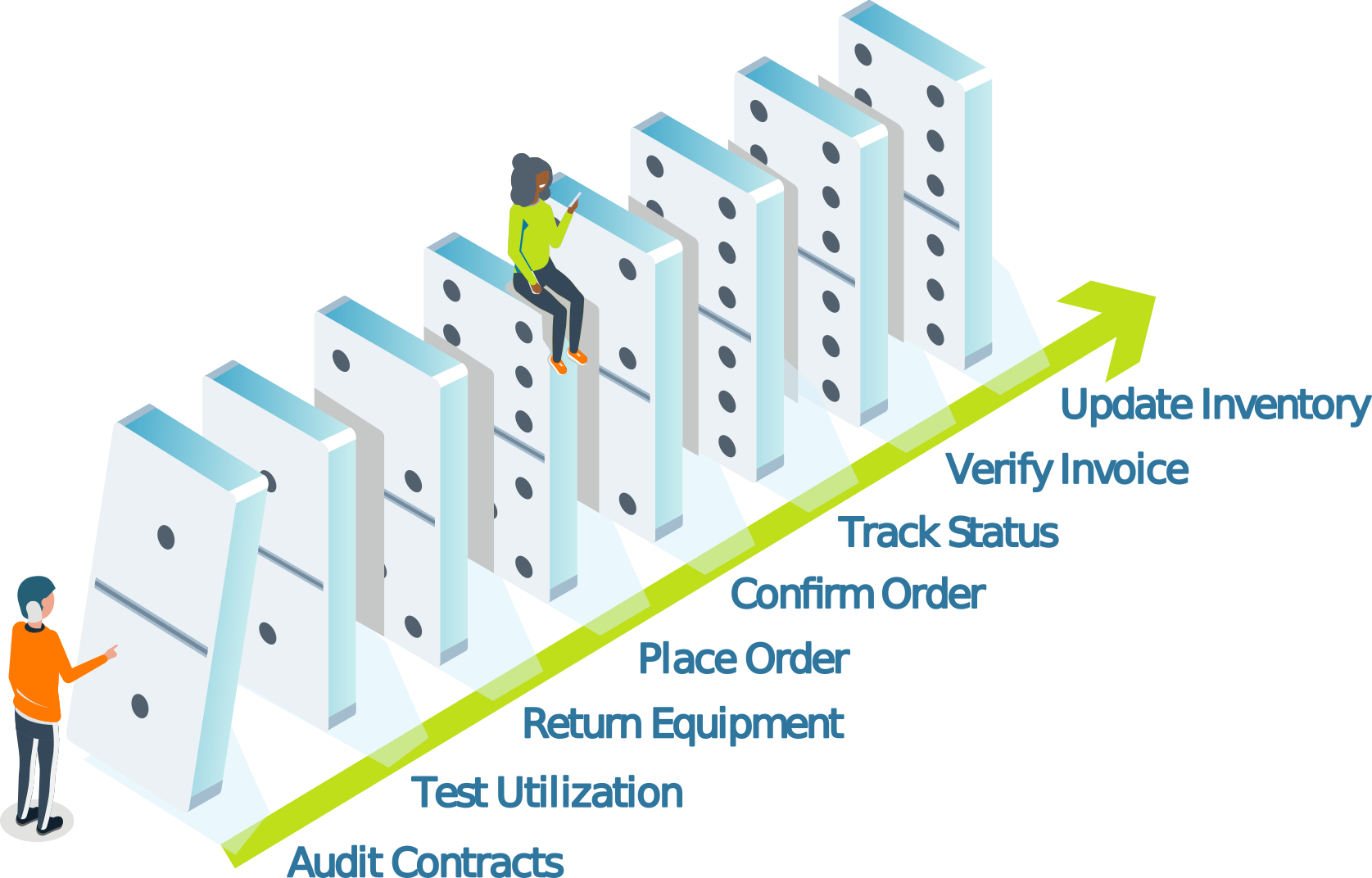 In today's competitive workforce environment, you want to keep your human resources happy and engaged. But communications workflows generate reams of paper and administrative work, weighing down your most valuable resource – time.
Communications Lifecycle Management
Your senior-level Major Client Services Manager will provide unbiased recommendations, engineering support, the lowest contract prices, and the best terms possible – guaranteed.
Gain visibility, get expert recommendations and let us manage the implementation as well as the rest of the lifecycle at a fixed rate, so you can keep the savings.
Skip expensive invoice processing and extra homework because we manage moves, adds, changes, disconnects, and other lifecycle changes in your existing environment.
"I think they really accelerated and put a lot of pressure on that end vendor in TATA on our behalf and really, really fought for us to try to get this thing deployed on time, in budget and in scope"
We have managed thousands of projects involving voice and data connectivity, unified communications, collaboration and contact centers. 
Enterprises that need to implement communications initiatives can accelerate their projects and ensure success by working with us.
Generate guaranteed savings and meet cost reduction targets without overhauling your technology and vendor mix or sacrificing quality. 
Offload the management of your communications services to our professional team of major client services manager dedicated to resolving and assisting in the burdensome administration. 
Improve project execution of technology initiatives involving voice and data connectivity, unified communications, collaboration and contact centers
A dedicated team of employees that helps accelerate the integration of M&A, new site deployments, divestitures, and migrations.
Give engineers and finance complete visibility to effectively manage communications assets and total costs while providing the freedom to focus on other key projects.