Strategic Advisory Services
Managing strategic technology initiatives is the most mission-critical responsibility for an IT team, and it can often be the most challenging. IT teams must face the complexities of integrating new technologies with existing infrastructure, ensure data security and compliance, and navigate the fragmented and confusing vendor landscape.
But very few are equipped with the specialized skills, tools and expertise to do this effectively. That's why zLinq's Strategic Advisory Services are designed to relieve this burden. By acting as a true extension of your IT team, we provide the expertise, relationships, and real-world experience required to help drive continuous the technology innovation.   
Our Process
Deep Understanding: Each strategic advisory engagement starts with understanding your criteria and what's most important to you, your team and your business.
Experience: Your account will be staffed with a dedicated Client Services Manager, and a Solutions team comprised of telecom veterans.
Best-Practices: Our playbook includes templatized discovery and requirements gathering criteria, vendor shortlist matrices and vendor report cards, benchmarking database access and overall market data/expertise.
Our Methodology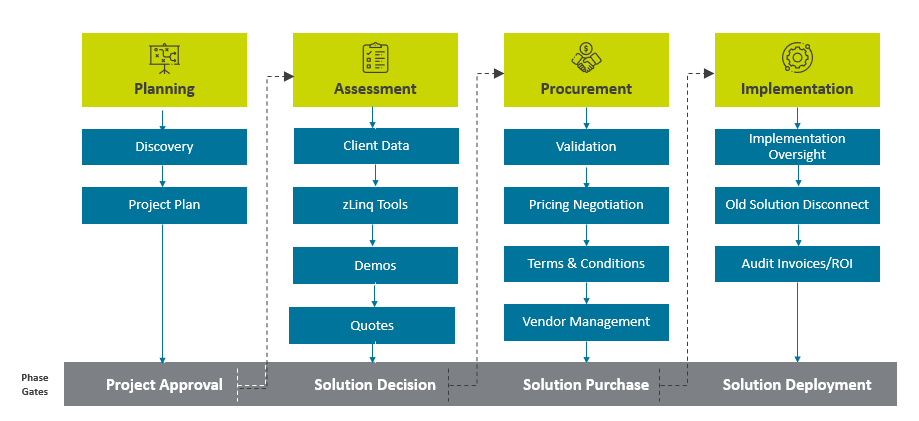 "The result of zLinq's work correcting erroneous billing resulted in Total Annualized Savings of $68,340, which offsets 27% of their Savings Guarantee!"

VP of IT, $8B-asset Credit Union
Our Capabilities
Vendor Analysis and Selection
Lead technical review, pricing evaluation, competitive analysis, and negotiation.
Solution Design
Help select and implement the optimal technologies to achieve strategic goals.
Reporting and Analytics
Provide deep visibility into the organization's communication services through comprehensive reporting and analytics on usage, expenses, and performance.
Usage & Billing Optimization
Analyze service and billing patterns and make recommendations for optimizing usage, decommissioning obsolete assets, renegotiating contracts, reducing waste, and identifying cost savings.
Installation and Project Management
Ensure implementation of infrastructure and related projects is completed on time, within budget, and meets required specifications and quality standards.
Our Scope
zLinq works with multi-location enterprises as a vendor-neutral extension of their IT team to manage the full lifecycle of their voice and data assets to solve the challenges of wasted spend, wasted time, and strategic initiative management.

Our Customers
zLinq works with some of the most forward-thinking enterprises where voice and data connectivity, unified communications, collaboration and call centers are mission critical.
Our Clients Include:

The zLinq Advantage
Benchmarking: 1,000+ customer benchmarking database, focused on mid-market enterprises
Vertical Specialization: We support clients in multiple industries but have heavy concentration of Banks, Credit Unions, Healthcare and Manufacturing giving us deep understanding of industry-specific challenges
Buying Power: We manage over $3.5M in monthly telecom spend across 350 providers, giving us leverage to negotiate the best rates on your behalf
Purpose-Built Software: Real-time access to your entire telecom asset inventory and cost-savings
Telecom Expertise: Dedicated Customer Service managers average over 15+ years of telecom experience each
Success Guarantee: Our "budget neutral" pricing ensures your savings always exceed our fees – or we cut you a check for the difference